What do you know about it ?
Don't know why it is so hard to play country music in France. In fact, few people know anything else than dance floor country music.
Recently (2013), an english town set up a "journée française" (french day), recommending participants to wear a beret, bring a baguette (bread) and have a moustache (authentic). Country music in France is just the same : mainly caricatures et stereotypes.
A l'origine, la musique country est la musique des gardiens de bétail qui chantaient pour tromper leur solitude, le manque de femmes etc.
Mais cette musique a évolué, parallèlement au blues auquel elle a emprunté certains éléments et réciproquement.
Les vieux enregistrement (après la première guerre mondiale) nous montrent que
les deux courants sont très proches. Pour ceux qui veulent en savoir plus, consultez cette page.
Après une période d'immobilisme (années 50/début des années 60) la musique country va connaître un renouveau vers la fin des années 60 en ré-intégrant le rock (lui-même issu du blues et de la country) grâce à des artistes comme Bob Dylan, Neil Young, Ray Charles et de nombreux autres.
To me, the father of modern country music is Gram Parsons.
Although he passed very young (27 years old), Gram Parsons is quoted as a major influence by many well known artists among whom Keith Richards, Crosby Stills and Nash, The Eagles etc.
Gram Parsons joined the Byrds for their marster piece album "Sweetheart on the Rodeo" (that we may consider as a foundation for modern country music). He also played with "The Flying Burrito Brothers", influenced several songs of the Rolling Stones and originated the career of Emmylou Harris.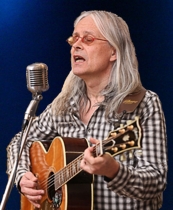 To get over with prejudices ...
In 1970, the Byrds were touring England and prepared to move to South Africa. Gram Parsons, meeting Keith Richards, asked him why people here seemed so strange when he said they were going there.
Keith told him about the apartheid regime, of which he had never heard before. Then Gram Parsons decided to quit as he did not want to play in such a place.